As a writer I write daily blog posts, weekly newsletters plus comments on other blogs and social networking sites. And that's just for my own business. Never mind the writing I do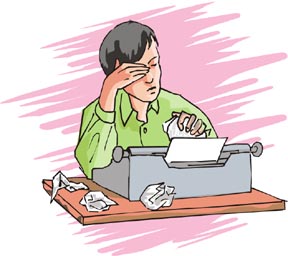 for clients – newsletters, websites, articles and more.
With all this writing I need to do in any given week, it's not surprising that occasionally, even as a professional writer, I get writers' block. I sit down and don't know what to write.
But because I'm a professional writer, I don't have the luxury of letting writer's block stop me. I don't have any other tasks to do for my business – until someone figures out a way to make a living from Solitaire.
So today I'm going to share some tricks of the trade; things I – and other writers – do to keep the ideas flowing.
1. Use Questions From Customers
Keep track of questions you get from clients and prospects about your industry. If one person is asking you, odds are there are many more who are wondering the same thing. Write an article answering the question.
2. Read other blogs and newsletters in your industry
No, you don't want to copy what they write – that's plagiarism. But you can summarize another article – with a link to the original. Even better, you can add your own perspective on the subject.
3. Read books and magazines in your industry
An interesting fact my spark your interest and you can start an article with it. Or you can write a review of the book, letting readers know if it's worth their time.
4. Use a quotation
I have a copy of Forbes Book of Business Quotations
. I browse through it for a quotation that grabs my attention. Then I write about what that quote means to me and how it relates to my readers.
5. Use LinkedIn Answers
LinkedIn Answers is a great way to get ideas for articles. You can see what other people are asking and use those subjects as topics. Or you can plan ahead and ask a question of your own and use the responses you get in your article.
6. Interview an expert
Interview an expert in your industry and then write about it. If you're lucky, you'll get several article ideas from one interview.
7. Use current events
Look at current events and try to connect your industry to them. For example, a public relations expert could use the protests over the Olympic Torch Relay to talk about how to manage negative publicity. A business coach could use the Ottawa Senators failure in the playoffs to lead into a talk about team building.
8. Use Google Alerts
Set up Google Alerts for important keywords in your industry. Check your most recent Alerts for ideas. Often just the headlines of what's on the internet will spark an idea.
9. Do a case study
Write a case study of a success you had with a client. Focus on the problem your client had and how things changed for them after you solved this problem.
10. Create a list
Create a list of ways to do something your audience needs to know. A list like this one is quick and easy to write. The number of items on the list depends on how much information you have.
Summary
If every time you sit down to write you run into writer's block, consider carrying a notebook where you can jot down ideas as they occur. Then the next time you need to write for your blog or newsletter, you just need to pick one from the list.
Andrea J. Stenberg