Many small business owners dread marketing. It's something that often gets put to the bottom of the "to-do" list until situation gets dire and you really, REALLY need new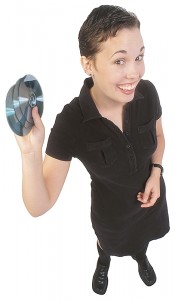 clients.
Others get it done, but they kind of have to grit their teeth to do it. They know it's something that has to be done but they really hate it.
If that sounds like you, I'd like to suggest a paradigm shift, one that can make you love marketing. No, I'm not kidding. Nor am I crazy!
If you're a regular reader of the Baby Boomer Entrepreneur blog then you've probably started your business later in life not just to earn a living but also to follow your passion. You wanted more out of your career then just a j-o-b.
And I'll bet that whatever products or services you're selling are special. You're proud of what you do and you know that when someone buys from you, their life will be a little bit better because what you're selling is awesome!
Did I hit the nail on the head?
So, when you go out and promote yourself on Facebook or LinkedIn, when you talk to someone at a networking meeting, when you write to your blog, don't think of it as looking for more money for your business. Think of it as letting the people who need your products or services know where to find you. You're showing them how to make their lives better … by buying your products.
There are people out there right now looking for what you have to offer. By being a better marketer, you are helping more people – people who need you. You are making it easier for those people to find you and making it easier for them to buy from you. And if along the way you can make a profit, well, everybody wins.
So the next time you think, "Yuck … time for marketing" give yourself a mental shake. Then picture the person who desperately needs you but doesn't yet know you exist. Then go out there and make it easy for them to find you!
Andrea J. Stenberg
If you liked this post please leave a comment (or even if you didn't). Also, please click one of the sharing buttons for Facebook, Twitter, Google + or the site of your choice. Help another business owner who is struggling with their marketing find me. We'll both thank you!