As a marketing professional I am immersed with marketing – particularly online marketing. And sometimes it's easy to forget that just because I'm heavily involved in marketing, other business owners are not.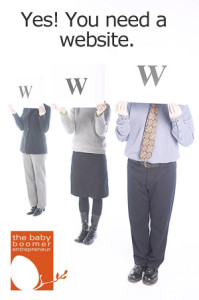 That's why I shouldn't have been surprised by a study by RBC that shows only 46 percent of Canadian small businesses have a website and only 39 percent use social media. A similar study shows that 60% of UK small businesses are not online.
In fact I wasn't entirely surprised. I have had several people come to me in the past year asking, "Andrea, do I really need a website?"
The short answer: YES!
Why? That same RBC study shows 38 percent of small businesses generate a quarter of their revenue from online sales and 22 percent generate half of the revenue online.
But there's more: 55% of Buyers Search for Information on Social Media. Looking at a business page and getting recommendations from their social media connections is a large part of the decision-making process. I know I ask my social network before making a major purchase – both for my business and my home.
But there's more. According to the mortgage broker in my BNI group, if you apply for a mortgage and don't have a website for your business, the bank assumes you don't have a real business. No website = no mortgage.
Additionally 46% of smart phone owners use their smart phone EXCLUSIVELY when searching for businesses. So not only do you need to be online, but you need to be mobile friendly.
If you don't yet have a website, I hope I've convinced you to get started. If not, watch my video on why you need a website. I share a story that is important to know if you market to a younger audience.
Finally, here's a slide show with some impressive stats about online marketing. Enjoy.
[slideshare id=14109721&doc=150-smart-stats-online-marketing-trends-every-business-needs-to-know-120829133725-phpapp02]