What's the secret to creating a powerful LinkedIn profile that gets found? Completing the Summary section.
I think the Summary section is possibly the most important part of your LinkedIn profile. It's one place where you can really show off your personality – give people a taste of who you are.
Also, you may not realize that LinkedIn gives more importance to the summary than elsewhere in your profile when it comes to determining how often you show up in searches. Yes, your connections matter too but the summary is key.
Therefore a well-written summary complete with important keywords for your business can increase the likelihood that your profile shows up in a LinkedIn search.
So here are three tips to making your summary better:
1. You have 2000 characters — use all of it. Tell a story or showcase your accomplishments. Highlight new products/services. Brag about awards. Talk about how you've helped a client.
The experience section reads like a resume, the summary is more like a conversation. This is like your elevator pitch on steroids.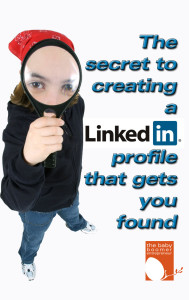 2. Make it look pretty. Never have one long block of text. Large chunks of text look ugly and are hard to read online. Create short paragraphs with a blank line between.
Although you can't use standard formatting like bold, italics or different fonts, you can still create interest visually. Use headers with all caps and blank lines above and below to highlight sections. Use bullet points to add some additional visual interest.
3. Finally, add a way for people to contact you. Yes I know there are other places in your LinkedIn profile that include your phone number or e-mail address but you want to make it easy for people to get in touch. Don't make someone hunt for your contact information.
If you use these tips to edit your LinkedIn profile, please come back and leave a link to your profile in the comments so I can see what you've done.