I often say we entrepreneurs are control freaks … that's partially why we became entrepreneurs in the first place. However, if we want to really grow our business we need to learn to delegate. And if you're a solopreneur like I am, that means outsourcing.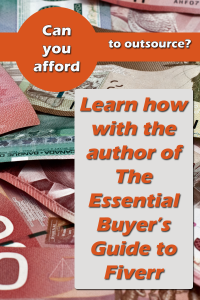 What should you be outsourcing? Anything that isn't revenue generating. Administration, bookkeeping and technical matters come to mind.
For example, if you are designing a new cover photo for your Facebook page an experienced graphic designer can do it faster than you can and it will probably look much better.
And if designing that Facebook cover takes you one hour, that's one hour you are not spending marketing your business or delivering your services.
However, outsourcing can be scary. First is the cost. Can you afford it? Second is how to find someone. How do you know they are good enough? And how do you know they'll do a good job.
In this video interview with Dina Eisenberg we talk about her tips for using the site Fiverr to outsource many tasks. Looking at a provider's rating is key, the number of jobs they have in the queue and their portfolio are all important. And best of all, many of the prices start at $5. That sounds like an affordable outsourcing option to me.
You can get a copy of Dina's book The Essential Fiverr Buyer's Guide for free until September 23rd.