While getting started on Twitter is fairly easy, there are some advanced strategies that may take new users some time to figure out. One of those is the hashtag (#).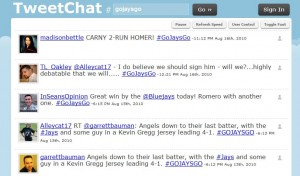 Hashtags are used for following conversations on Twitter. Putting a # in front of a word or code allows everyone to see what's being said about this topic.
For example, you may have seen #followfriday on Twitter. This particular hashtag is a way for people to tell their followers about interesting people on Twitter.
I'm a big baseball fan. By following #Bluejays or #gojaysgo during a game, I can chat with fellow fans from the comfort of my living room
Hashtags for Live Events
However, hashtags can be used in a variety of other ways. Read More→