Attention busy and overworked entrepreneurs:
"Are Your Ready to Gain 2 Hours a Day to Get More Done, Do More Marketing & Still Have Fun?"
Are you running your business or is your business running you? Join Yvonne McCoy and Andrea Stenberg for a training program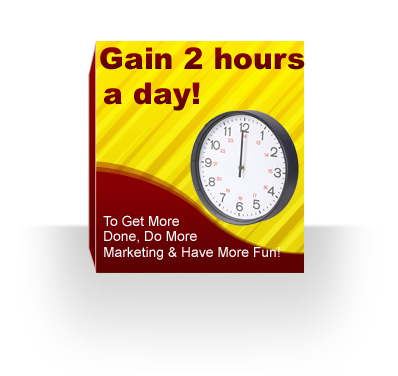 where we show you how to take back your business and your life.
In this instant-download training program you will learn 3 simple techniques to:
Get more done in the time you have
Identify your time wasters and how to avoid them
Leave the office sooner so you can have fun with your family and friends
Get more customers because you're finally marketing yourself on a consistent basis
This productivity training program includes a one-hour training audio, a workbook and a transcript of the audio.
This is the right training program for you if you are:
Feeling overwhelmed because you never seem to get to the bottom of your "to-do" list
Frustrated because other people seem to get more done than you
Tired of your family complaining you never have time for them
Wishing you had more customers but never seem to find the time to market yourself
Missing the personal time you used to have before you started your business
Time is one of your most valuable assets. We each have only 24 hours in a day so you need to get more out of the time you have. We look forward to sharing our secrets to getting great results while still enjoying our lives.
Only $27 USD
What are you waiting for? Let's get moving!