This post is written by guest blogger Brendan Cruickshank. And while he has written about how to find green jobs, his advice works equally well for business owners and freelancers who want to find green clients.
In an information age, one critical factor stands out – the likelihood that potential employers will investigate you anonymously is very high. The ease with which your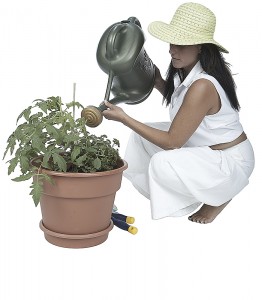 online presence can be pulled up and examined makes this the norm.
And potential employers believe what they find – for good or ill, this represents your brand. We've all heard stories of how a Facebook rant lost someone their job. What is less known is that sophisticated HR departments are using the Internet to ferret out information about possible new hires. The sophisticated job search now has to include an Internet presence that "brands" them as the right person for the job or career of interest. This branding can either help or hurt you.
With these considerations in mind, here are five ways to meet the challenge and brand yourself green:
Start by creating two clues. The first will be your name. If you have a common name (or your name is already "polluted" by things on the net) consider using a middle initial or even your full middle name. You can invent one if you like. The second is a catch email address. You'd like something that "says green" like, [email protected] or [email protected] This will then appear as your reply-to email address and in your signature line for forum posts. You should also use it as the signon name for forums. The reason is that searches will be conducted on whatever your email nick happens to be. You want those searches to point to forums and blogs where you have made relevant comments. The same set of information should appear across the net – in LinkedIn, Facebook and wherever you have a footprint. Use the same spelling for your name and the same nick as your email.
Collect testimonials. What is said about you weighs more than what you say about yourself. This means your comments on blogs and in forums have to be mature and insightful. If you have a website, add a "Thanks for the nice recommendations" section on the first page and put quotes in there – they do not have to be flat out testimonials, they can be anything nice someone said about you. For instance, "John nailed it when he pointed us to the Leaves to Compost program. It's saved us time and money and benefited the community." It is surprisingly easy to collect testimonials when you keep an eye out for them. You can always ask as well. Time and again, job hunters forget to get recommendations on LinkedIn or preserve
testimonials on their Facebook page. These are gold.
Another way to "walk the walk" is through green networking, both online and locally. It is practically impossible to live in a community where something green isn't going on. Anything you can find and volunteer for will spawn a resume entry, a blog post (or several in diary format) a Facebook mention and a topic starter on your favorite forum. When you get involved, both on and offline, don't forget to mention that you are looking for work in the field. A signature line can work wonders here. You'll need to sum up the essential picture in short-form: "Seeking career opportunities in solar energy engineering and willing to relocate." This, again is a simple technique that isn't used by most job seekers. Just make sure to keep it general, these little seeds may not flower for months or years.
Knowledge can't be faked. Job seekers often make the mistake of trying to know it all or be everything to everyone. This is not only impossible, but faking your knowledge reflects poorly on your character. By being involved in the green movement, you will pick up and understand the
broad picture – hopefully you will also drill down in your own area of concern. The only way to have the needed expertise in an area is to actually have the knowledge. The Internet is your friend here. It is quite possible to self-educate and gain the insider's view. This advice goes double when you identify a company you want to work for. They will have information on their website about green initiatives and their stockholders report will also trumpet the good PR.
Not doing your homework is a mistake.
Push the limits. Sometimes, the difference between a green job and a job is just a matter of attitude. Don't limit yourself to only applying to companies with a green reputation. Some of the best positions are with companies who realize they have fallen down in this area and want to play
catch-up. Other employers may understand the need to be eco-friendly without wearing it on their sleeves. By including your greed branding in an application, you can distinguish yourself as someone who is socially aware and multi-dimensional.
There is an old expression, "Opportunity dances with those already on the dance floor."
The game isn't just a temporary push to get a job. The game is ongoing and continuing and will only help you for your next job and the better one after that. Patience if a virtue and you have to stick with it. You will not know who is reading your blog and mentioning you to their colleague, or that your name is filed
with a link for a job offer that may not come for months. Having your brand in place and keeping it alive will only help you – as long as you care for it. A periodic review by again searching your own name and email handle will keep you focused. You will see what prospective employers see. Just make sure it's attractive.
Brendan Cruickshank (Vice President of Client Services) – Brendan is a veteran of the online job search and recruiting industry, having spent the past 8 years in senior client services roles with major sites like Juju.com and JobsInTheMoney.com. He is quoted regularly as an expert in employment and jobs trends in major media outlets like the Washington Post, US News & World Report, and Forbes and has spoken at recruiting industry events such as Onrec and Kennedy Information's Corporate Recruiting Conference.