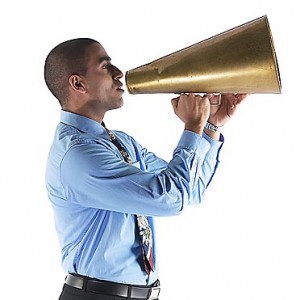 If you're a micro-business owner (where YOU are your business) it can be a challenge to figure out what to post to social media sites like Facebook and Twitter.
You don't want to be sharing what you ate for lunch or when you went to the bathroom.
On the other hand, you don't want to be too promotional either; that turns people off. You need to find a balance.
What's your social media brand?
No, I don't mean your logo or your photo – although that's part of it.
It's how do you want people to think of you. If you're a micro business – providing a product or service where your expertise is what sets you apart – then you probably want to be seen as an expert. You want to be the "go-to" person in your field.
How do you do this?
Be a resource
Provide useful information that your customers – and potential customers – need and want. You don't have to create all the content yourself. Provide links to articles and blog posts that provide useful information. Using Google Reader and RSS feeds can be a great way to quickly and easily find content to share.
Someone who does a great job of this is Infinity Network Solutions. They're an Owen Sound-based IT company and they populate their Facebook page with lots of great information about computers and how to use them safely or better.
Don't forget to be social
However don't forget it's called "social" media. Part of the power of tools like Facebook and Twitter is it gives people a chance to get to know, like and trust you. But in order to do that, you can't just be posting links. You need to spend some time talking about yourself, giving people a chance to get to know you..

For example, I Tweeted about washing my cell phone received tons of retweets and @replies like the one here.
So why would I send out a comment like this when I'm using social media for business? Because anyone who has had a similar experience suddenly felt a personal connection to me. I was no longer an anonymous business online but someone they could relate to. I'd gone from "know" to "like" because they could see how I'm like them.
Don't forget to promote
After all, you're using Facebook, Twitter or whatever for your business. So don't go so far over to being a resource or being social that you forget to toot your own horn. Post about specials or new products you have. Post photos of work you've done for clients (with permission). Share news about hiring new staff, expanding or anniversaries. Just make sure the informational and social posts are more frequent. Only 1 in 5 or 1 in 10 posts should be blatantly promotional.
Someone who does a good job of this is Jennifer Harris of Keylime Creative in the Village of Paisley. She has a nice chatty style, shares information and promotes herself.
One final piece of advice
Don't forget to reply to anyone who visits your page and takes the time to comment. It's a great way to deepen the relationship and shows the world that you're paying attention.
So go out and start posting!
Andrea J. Stenberg
If you liked this article, please share it with your social networks by clicking one (or more) of the share links. And feel free to join the conversation by leaving a comment here or at http://www.facebook.com/TheBabyBoomerEntrepreneur.