As a marketing expert I jumped onto Pinterest fairly early so I could advise my clients. I found Pinterest to be fun – addicting even. More so than even Twitter or Facebook, I found hours disappeared as I looked at pins, repinned and just plain wasted time.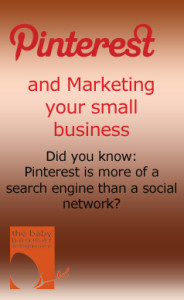 But does Pinterest have a business use?
I really couldn't see it and was telling my clients just that. Then I discovered the Oh So Pinteresting blog and podcast by Cynthia Sanchez. She completely changed my mind about this site as a business marketing tool.
Here's why.
According to Sanchez, Pinterest doesn't see itself as a social media site!
What!?! If it's not a social media site, what is it?
A search engine.
That blew my mind until I thought about how people I know are using Pinterest. People I know (other than social media marketers) are using Pinterest to search for instructions on how to do things – instructions with images to walk them through the steps. Sanchez refers to them as "Instructo-graphics".
So people are using Pinterest to search for things.
Additionally, Google loves Pinterest too. Links back to your site from a Pin help with your search engine ranking.
One of the keys to success is to produce interesting content (with links back to your website) that gets shared and repined.
Over the coming weeks I will be experimenting with Pinterest for marketing my business. I will write about my experience so you can save time and avoid mistakes.
Andrea J. Stenberg
If you are already on Pinterest, please leave a comment and include a link to your Pinterest Profile.