When marketing online you need to create amazing images to go along with your posts – eye catching, thumb-stopping visuals to make people want to stop, look and share. You can't just type a message and hit share any more.
Why Use Images?
Eye-tracking studies show internet readers pay more attention to information-carrying images than they do reading text on the page. (Source)
Tweets with images receive 150% more retweets than tweets without images. (Source)
BuzzSumo found that online articles with an image once every 75-100 words received double the social media shares as articles with fewer images. (Source)
Facebook posts with images see 2.3X more engagement than those without images. (Source)
Start with Great Photos
One of the easiest ways is to buy "stock" photos. There are a number of sites that sell photos – either individually, in a bundle or by subscription.
The pros – these are beautiful, professional photos. You can search the sites using keywords to find the appropriate subjects. And you know you have the legal right to use them on your website and social media.
The cons – Some of these sites are pricey. If you're sharing a lot of content on your website or on social the price can add up fast. Additionally, stock photos seem cold. They look too polished and don't create a connection between the viewer and your business.
If marketing, particularly social media, is about getting people to know, like and trust you, the images you use in your marketing need to seem personal.
DIY to Create Amazing Photos
Unless you're using a flip phone from 2009, you already own a powerful camera … your smartphone.
If you're like me, you never leave home without your phone so you always have your camera with you.
So use it. Start taking photos whenever you're out and about.
Photos of scenery, buildings, animals, people, selfies. Whatever strikes your fancy.
The best part is they're free. You own the copyright.
Tips for Taking Great Photos
Have good lighting. If you can, use natural light. If you want to get fancy you can get artificial lighting. I use my ceiling light and my Happy Lite for filming indoors.
Hold steady. Many cameras have stabilization technology but if you can, support your arm against something.
Don't zoom. This can often result in blurry photos. Instead, try to get closer. If you can't, take the photo at the highest resolution you can and crop it later.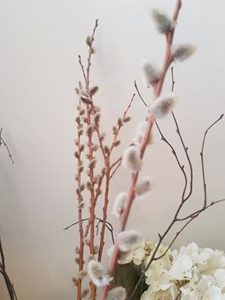 Focus on your subject. If you tap the screen on the object that is the focal point, the camera will focus in on that item. In this photo I took of some pussy willows, you can see  the ones in the back are actually more in focus.
Use negative space. Your image will stand out more if the subject isn't surrounded by clutter. This can be a white background. Or it can be anything that fades into the background – an expanse of sky, water or a plain wall.
Use real people. Photos of you and your staff at work, rather than posed, can be much more effective than using stock photos. It gives people a chance to feel like they know you, like they're getting a sneak peak.
Rule of Thirds
The rule of thirds is a photography principle. If your image is divided into thirds both horizontally and vertically (so you have a grid of 9 squares) you should put items of interest along the grid lines or where the lines intersect to make the photo more balance.
This is because studies show our eyes naturally go to one of the intersection points, not dead center.
Did you know you can put virtual gridlines on your camera? Go to settings and turn on grid. Then when you're about to take a photo you can see the grid and position yourself accordingly.
Think about what you want to share and the emotion you want to evoke, then choose a photo the compliments that idea.
Do you have a great idea for sharing images? Leave a comment and tell us what you do.