Many people get an invitation from a friend or colleague to join LinkedIn. They accept,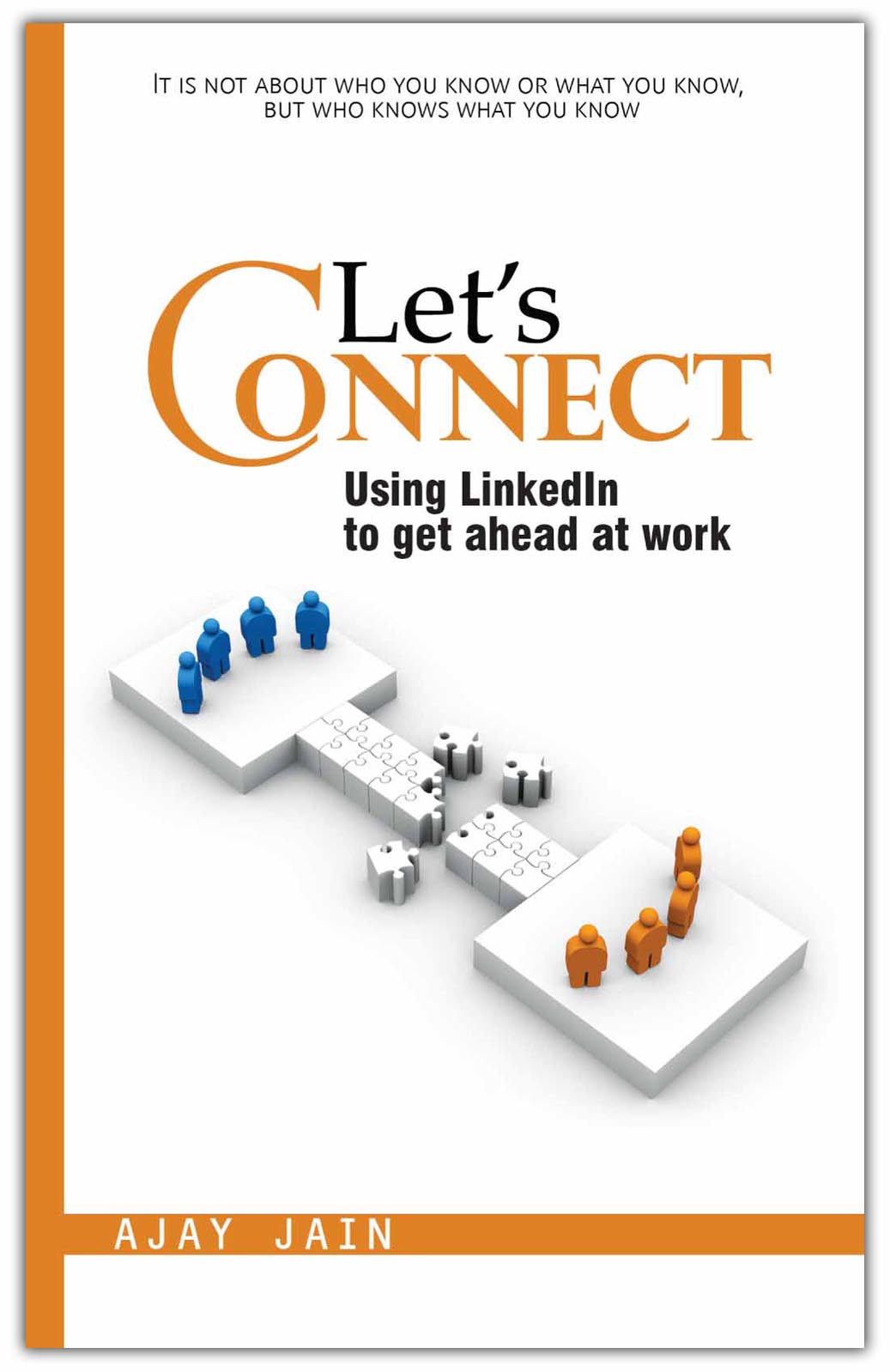 sign up, get a couple of other links and then wonder, "now what? So they sit with a LinkedIn account and do nothing further with it.
Others put a little more effort in it; they invite their friends and colleagues, check the size of their network regularly and feel happy they're making progress. And yet, they're still not using LinkedIn to its full potential.
If you're one of those people who has an account but doesn't quite know what to do with it, then Ajay Jain's book is for you. Not a how to navigate LinkedIn manual, Let's Connect: Using LinkedIn to get ahead at work is a guide to using LinkedIn strategically.
Jain's book is a nice mix of practical strategies and quotes from LinkedIn users illustrating how they've used the methods Jain is writing about. These mini case studies add real authority to Jain's book and are interesting reading.
For example, Jain writes about strategies for using the Answers section of LinkedIn to your benefit. You can pose questions to conduct market research or to get ideas to solve a business problem.
You can also use Answers as a subtle form of marketing; by asking questions related to your field of business you put your name – and perhaps your website – in front of potential customers who may visit your site or start a conversation. Or they may invite you to become a connection.
Let's Connect includes some ways for using LinkedIn that I hadn't considered. If you are hiring an employee, looking them up on LinkedIn can potentially find you information that you couldn't get elsewhere. While candidates tailor their resumes to the position they're applying for, they may have a more complete resume on LinkedIn.
Furthermore, if they are connected to someone you know personally, you may get more information about this person than by contacting their past employers. You also know that any recommendations are real and haven't been altered by the candidate.
Jain also provides some information about LinkedIn that is not widely available. For example, you have a lifetime supply of 3,000 invitations. When you've used them up, that's it. Forever.
This is one piece of information I've never seen publicized on the site. As a result of reading Jain's book, I'm a little more choosy about who I send invites to. In fact, for people who are not currently a member of LinkedIn, I'm considering sending them invites by regular e-mail so that I don't waste an invitation on someone who may not be interested in joining LinkedIn at all.
Overall, I enjoyed reading Let's Connect. I'm planning on using some of Jain's strategies to build my own network and my own business. If you're a member of LinkedIn – or thinking of it – and aren't sure how to use the site effectively, Jain's book is a worthwhile purchase.
To find out more about Jain, visit his LinkedIn profile. If you'd like to read some sample chapters, order the book or get other information go to www.techgazing.com/linkedin.
If you'd like to connect with me on LinkedIn, check out my profile. My e-mail address is [email protected]. Let me know you're a reader of The Baby Boomer Entrepreneur and I'll accept your invite.
Andrea J. Stenberg
Whether it's for business or personal use, another great way to connect with people online is by using virtual invitations.