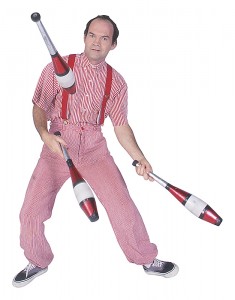 Being in business (as well as being a wife and mother) means that I often feel like I have too many balls – or pins – in the air at any one time. This week I'm working on a major project for a client, trying to get some  of my own sales copy online and getting ready for a dance weekend here in Owen Sound. Oh yea, and there's housework, laundry, helping my son with his new paper route and trying to get my butt out of the chair long enough to get some exercise. No wonder I feel like I'm juggling.
Of course, I'm hardly unique. Most of you can probably come up with a list that's longer than mine. That's one of the joys of being a baby boomer – we're busy people. If you don't believe boomers have a lot on the go, just head on over to this week's edition of the Blogging Boomers Carnival. Barbara Weibel, this week's host, writes Hole in the Donut travel blog.
Barbara writes that she, "only recently figured out what I want to be when I grow up." This is a phrase I've heard from more than one boomer making a mid-life course correction. It's a phrase I've used myself. If you're at all interested in travel and can relate to Barbara's sentiment, you'll probably enjoy her blog.
Of course, there's more to the Carnival than the host's blog. This week's topics include what to wear to a child's wedding, finding out how the meaning of your life may have changed, scary stuff from the fridge, Twitter and money plus a lot more. So start your week off right with a trip to the Blogging Boomers Carnival.
Have a happy week.
Andrea J. Stenberg