When people are making a purchase, part of the decision process is looking the salesperson in the eye and deciding how well they trust this person.
That is part of the reason why online sales is a little harder. It's also why social media is so effective as a marketing tool. It gives your online customers a chance to get to know, like and trust you first.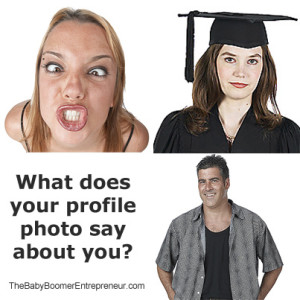 This is why having a photo of you, not your logo, is so important in your social media marketing. It gives people a chance to virtually look you in the eye before making a decision to buy from you.
But I see a lot of people with photos that aren't doing them justice. Your photo should reflect you and how your work with your clients. There shouldn't be any surprises.
Goofy photos don't help, unless you and your brand are goofy. If you might show up at a client's office wearing a Santa hat, then by all means wear one in your profile photo. If not, leave it out.
Keeping your photo current is also important. Years ago I managed a symphony. One guest artist sent us his photo to use in our promotions. He was a handsome young man with a full head of dark brown hair. Imagine our surprise when a balding middle-aged man appeared to perform.
Now trust me, I understand the temptation to stick with a photo of a younger you. I'm not as thin as I once was and I have way more "antique blond" hairs than I once did. I love my photo from when I first started my business. But since I do a number of in-person speaking engagements I didn't want anyone wondering "who the heck is this middle-aged fat lady?"
Even your clothes matter. I know one consultant who worked with senior executives at Fortune 500 companies. These are people who wear suits that cost more than my last car. And yet, he insisted in using a photo taken when he was at the beach.
Why does this matter?
Remember earlier how I said that social media marketing gives people a chance to get to know, like and trust you? Well if they were expecting a handsome young man with a full head of hair and a middle-aged bald guy shows up a sense of mistrust crops into the relationship. The customer will start thinking "if the photo was a lie, maybe his ability is a lie too".
My advice for your photo is to dress as you would if you were meeting a client in person. If your entire business is online, you still need to consider your customer's experience. If they are paying for a premium, professional service you should look the part.
Andrea J. Stenberg
Do you have an experience about good or bad profile photos? Please leave a comment and share your thoughts.