Should coaches, consultants and other small business owners try marketing with YouTube Shorts? While jury is still out on the definitive answer to that question, there are some compelling reasons why now might be the time to start marketing with YouTube Shorts.
What are YouTube Shorts?
Before I answer whether you should be marketing with YouTube Shorts, let's define what exactly are YouTube Shorts. YouTube Shorts are YouTube's version of Instagram Reels, which are Instagram's version of TikTok (there's a fair bit of cannibalisms in the social media world).
They are short, vertical videos meant to be watched on a smartphone, not desktop. Shorts may be 15 or 60 seconds long.
Where do you find YouTube Shorts?
You'll find Shorts on the "Shorts Shelf". There is an interesting mix of shorts by channels you follow and channels you don't follow but presumably the YouTube algorithm thinks you'll enjoy. On deskop there's one row of the Shorts Shelf near the top of your YouTube Home page. There's also a "Shorts" menu item on the left.

On your smartphone you might see several Shorts Shelfs as you scroll your home feed. There's also a Shorts Menu item at the bottom of your smartphone. You can also look specifically for Shorts by typing #shorts into the search bar.
Creating YouTube Shorts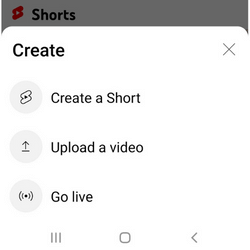 Currently you can only create or upload Shorts from your smartphone. Open the YouTube app on your phone and click the large plus botton on the bottom. You'll have the option to Create a Short, Upload a Video or Go Live.
Since Instagram has already added the ability to upload videos from your desktop I suspect this feature will eventually be available on YouTube but not yet.
You can either create a YouTube Short from scratch within the app or upload a video you created for Instagram Reels or TikTok. If you've already created a ton of content for Reels or TikTok this can be a real shortcut to growing on YouTube.
Remember if you used music from the Instagram app in your Reels they'll download without sound (usually). You can add music from YouTube but you might have a challenge finding music that matches what you created on Instagram so you'll probably have better luck with videos where you were speaking.
How to Use YouTube Shorts for Marketing
Full confession, I haven't spent a ton of time experimenting with Shorts yet but I am seeing an interesting trend. I'm also hearing the same thing from my colleagues.
YouTube Shorts get a ton of views. Way more than full length, horizontal videos.
This is probably because the majority of people on YouTube are actually watching on their phones (63% according to Oblero). Plus apparently we all have the attention spans of a goldfish.
Regardless of the reason, if you're just starting your YouTube channel or haven't devoted a ton of time to growing it, Shorts can be a nice shortcut (pun intended).
This Short I published received 357 views in less than 12 hours even though I only have 79 channel subscribers.
As you can see, it's a great opportunity to be discovered by new people. Whether that translates into new followers and new leads is still to be proven but I have heard from people who jumped in a little soon than I did that Shorts are converting.
One strategy I'm currently testing is posting several Shorts around a single topic, along with a longer traditional (horizontal) video on the same topic. I'm hearing from colleagues that this does drive traffic and subscribers to your channel. Your longer videos can then be used to send people to your website.
Stay tuned as I get more of my own data.
What's your experience with posting or watching Shorts?