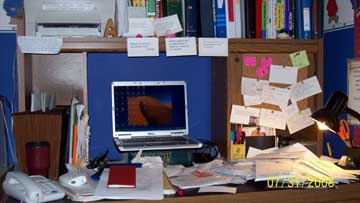 This photo was taken this morning … about 4:15 am … of my actual desk. Yes … the paper has taken a life of its own and taken over my desk. The problem is … okay, clearly there's more than one problem.
The excuses
First, not everything is work related. My husband has taken to dropping our personal bills on my desk (since when did I become the designated bill-payer?). Since I don't have a place for unpaid bills, I've been shoving them to the side.
There's also our electronic thermometer. It ran out of batteries and I keep some in my desk drawer. I replaced the batteries but never got around to putting it away. I see some Canadian Tire money, a Timmies' gift certificate from a student, a gift certificate for Flickr, my marble egg (okay, that stays), two passport applications (why two???) and a million receipts, some of which might actually be work related.
Second, there are piles of projects that are in progress. I tend to like leaving what I'm currently working on out, so I can find it first thing the next day. Problem is, I suspect there's some stuff hidden under the piles that I need, but couldn't find without some serious mining.
Third, there are some files buried under the mess that never got put away.
Fourth, while I didn't take a photo of the rest of the office, it's in just as bad, if not worse shape, and it is definitely NOT all work related. Somehow my rubber stamping supplies ended up scattered all over my office floor. Darn gremlins.
Fifth, there are some ebooks I printed off to read and never quite finished but never got into binders either.
What's the real problem?
The real problem is I don't have a system. Or more correctly, I have about three systems, none of which I'm currently using. I've never made any of them a habit, so when I got stressed, I reverted to old – and very bad – habits.
Why did I choose to share this ugly little secret by posting the photo on my blog? Cleaning my office has been on my to-do list for about three weeks. Yes, not only am I a closet slob, I'm a procrastinator too (at least when it comes to anything that resembles housework).
The method to my madness is now that I've publicly confessed my organizing sins, I'll be forced to do something about it.
My solution
As I write this it is 5 am. Since I've been at it since 4, if I work until noon that will be a full eight hours. I will break for lunch at noon. After I take my son to his class at the art gallery, I'll have almost three hours. It's time to put on some tunes and tackle the office.
Step one
Put away my rubber stamping supplies and anything else that is laying around the office (and out of camera range from the above photo). Pick it all up and PUT IT AWAY! There will be nothing on the sofa and the only things on the floor will be furniture.
Step two
Sort the crap, I mean important but misplaced items on my desk, into piles. One for personal bills, one for stuff that goes elsewhere, one for stuff to be filed, one for the ebooks and one for unfinished projects.
Step three
Starting with one pile, and continuing until it's done, I will put everything away. No stopping to complete a task or read an ebook. It's time to put everything away. If it doesn't have a place, find it one.
Step four
Once everything is put away and my desk is clear, vacuum and dust. Might as well start really clean.
Step five
Pay my bills. Since some of them have been sitting there for a few weeks, better get that out of the way too.
Step six
Create some systems so this doesn't happen again.
In a previous post I mentioned a teleseminar Get Organized, Get on Track and Get Unstuck by Robert Middleton and Elizabeth Hagen. In it Elizabeth mentions the Command Centre. I created one for myself but never got into the habit of using it, mainly because it's in a place that's a pain to access.
I still think this is a good system, I just need it easier to get at. So, I will move the command center to a spot on my desk that is easy to get to. This way I won't be tempted to leave things out on my desk. I'll be able to slip them right into the Command Center files without having to move anything.
My desk is kind of small so I may have to move my phone, but I think I can make it work. The upside of moving the Command Center? The location it's in now would be perfect for holding binders of printed ebooks!
I'll also plan to put a basket at the door to my office. The new rule is anyone brining anything into my office (unless it's chocolate) must place it in the basket.
Final Step
Here's the final step. Since I really hate cleaning and know I am a master of putting off unpleasant tasks, I'm making a public declaration. If you do not see a new photo of my desk – one where you can actually see the desktop – by Monday August 4th, you have my permission, no my encouragement, to nag me. Send me an email, write on my Facebook wall, post snide comments on my blog, Tweet me. Whatever it takes.
Andrea J. Stenberg
Since this is a seven, not twelve, step program, you don't need to start your comments with "Hello, my name is Jane and I'm a slob". However, to make me feel better I'd love to hear about times you've been less than organized. What went wrong? How bad did it get? How did you solve it?
If you'd like to get a copy of Robert Middleton's Interview with Elizabeth Hagen go to Robert's Action Plan Marketing site and look for Get Organized, Get on Track and Get Unstuck under audio programs. To find out more about Elizabeth Hagen's organizing tools and programs, visit http://www.profcs.com/app/?af=738504.