SEO (Search Engine Optimization) is often misunderstood by small business owners, mainly because it's pretty complicated. While I don't pretend to be anything like an expert on the subject, I'll give you a few basics here.
What is SEO?
It refers to things you do with your website to make it more likely to turn up on Google in a search.  These can include the design of your site, the content you use – including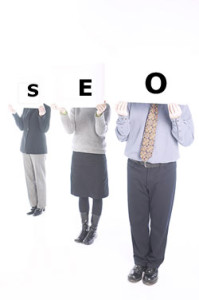 headings and pages, how frequently the page is updated and links to your site to name a few.
Why is Good SEO Important?
To be truly effective you can't just turn up on page three of a Google search. You must be on the first page. Why? According to a study by Optify, pages that show up in the number one spot on a Google search get 36.4% of the clicks, number two gets 12.5%, number three gets 9.5% and number ten gets only 2.2%. So you can see it is very important to turn up at the top of a search.
How Can I Compete With Everyone Else?
The good news is you don't have to. If you're a local business you're particularly in luck because you don't have to compete with everyone else in the world who does what you do. You only have to complete with the local businesses who do what you do.
The vast majority of searches on Google are not for a single word. People tend to type in phrases. "How do I fix my sewing machine" or "chiropractor in Georgetown".
This is good news because if you type "chiropractor" into Google you get 23,200,000 results. And Wikipedia is the first result. But if you type in "Chiropractor" + "your home town" you'll get better results.
Focusing on what Chris Anderson called "long tail" keywords will help you turn up when people type in these keyword phrases.
Here are some other ways to improve your SEO.
Search engines love blogs.
Why? First, the software is designed to be easy for search engines to crawl (read) your site. Second, blogs contain lots of content. If you use your important keywords in the titles of your posts it will help your rankings. Third, most blogs are updated regularly. Search engines like fresh content.
Google Loves Google
Big surprise that Google gives added weight to other Google products.  Having a Google Plus profile with a link to your website can help. Did you know that YouTube is the number two search engine after Google? Did you know Google owns YouTube? Creating a YouTube channel branded with your company and with links back to your website can help with your search engine optimization. So can creating videos with titles that include your keywords.
Social Media Helps
Having people share content that includes links to your site helps with SEO – yet another reason why blogging is important. Google is also starting to use your social connections to influence your search. For example, if you're logged into your Google account when you do a search, people you're connected to on Google Plus are more likely to turn up at the top of your search. The same goes for your customers.
If you have never given SEO a thought, this should get you started.
Andrea Stenberg