"Which social network should I use?"

"Do I really have to be on Facebook and LinkedIn and Twitter and YouTube and Google Plus and …"

"How do I manage my social media marketing and still run my business?"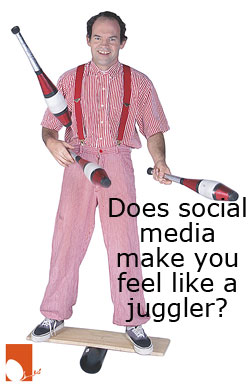 I hear these questions from clients on almost a daily basis. And trust me, I know how you feel. I'm a social media marketing expert and I feel overwhelmed at times.
There are some tools I don't do enough with and there are some I'm not using at all. How can someone whose business is not marketing keep up?
The answer … don't try!
Seriously. I give you permission not to be on every social media site that's new and "hot".
Now don't get me wrong – most small businesses don't do enough marketing.
If you have ebbs and flows in your business that you don't want or plan for, you should be doing more marketing.
A lawyer at my BNI networking meeting this morning said it best. "Marketing is like one of those tennis ball machines that shoots balls to you. If you spend all your time hitting the balls but don't add anything new to the hopper, eventually there will be nothing coming out the shoot."
But that doesn't mean social networking should take over your life. It should be a planned and strategic part of your overall marketing.
So how do you decide where to go?
Based on sheer numbers and research that's being done, you probably want to be on one at least one of Facebook, LinkedIn, Twitter or Google Plus. You may want or need to be on more than one but if you're just starting out pick one to start. It's far better for you to master one site and do it consistently than to be on many that you do badly and sporadically.
Which of the "big four" should you choose? Find out which one your customers are using. You can either ask them directly or you can search the sites. Choose one that has a lot of customers and potential customers. Set yourself a schedule and work on marketing yourself with this site for three to six months.
Once you've mastered the site you've chosen and decided it's getting results for you, you may want to add another. Look at another of the "big four" if your customers are there too or you can look at another site entirely.
YouTube is a good choice because it's the number two search engine and you can reuse the videos you create elsewhere – on your website and on whichever social networking site you're using. Pinterest may be another option as it's hugely popular and can drive lots of traffic to your website. If you're not currently doing it now might be the time to start blogging. It helps establish you as an expert, is great for search engine optimization and you can share the stuff you write on social media.
Whatever social networking site you choose to try remember this: even small consistent actions are better than doing nothing.
Andrea J. Stenberg
How did you decide which social networking site to use? If you knew then what you know now, would you make a different decision? Please leave a comment and share your thoughts.