I don't care if you're a coach, consultant, massage therapist or a toy store owner you need a blog as part of your online marketing strategy.
First of all your blog is the one piece of real estate on the web that you own.
You don't own Facebook, LinkedIn, Instagram or any of the other social platforms. You have to play by their rules.
Not only that, you run the risk of getting booted off the platform, sometimes very arbitrarily, and losing all the work you've done.
And if you succeed in driving traffic to your profile you're helping build someone else's Google ranking.
Why Have a Blog and Not a Static Website?
The short answer is Google. You want your business to show up on a Google search, preferably in the top 3 listings.
Let me explain how having a blog as the foundation of your online marketing strategy helps with Google ranking.
Imagine there are two business owners – Dick and Jane. They are both coaches serving the exact same market in the exact same city. (They could also be consultants, real estate agents or clothing store owners. It doesn't really matter for this example.)
Dick and Jane both create websites for their business. The websites go live on the exact same day. They each have a Home page, an About page, a Services page and a Contact page.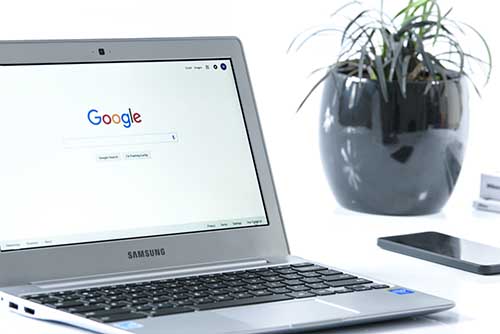 However Jane decides to start a blog and Dick decides his website is finished.
Now Jane isn't much of a writer. And she's very busy. So she decides the best she can do is write one blog post a month.
Each month Jane chooses a topic she knows her potential clients are interested in. These are topics related to the types of problems her clients have. The types of problems that make them look for coaching in the first place.
Fast forward a year. Dick's website hasn't changed. Jane's website has 12 new pages – one for each blog post. Each blog post has a keyword rich title and contains valuable and interesting content.
Now when someone does a Google search, there are 12 additional chances for Jane to show up.
Furthermore, from Google's point of view, it can't tell if Dick is still in business because there has been no activity on his website.
With Jane's blogging however Google can see her business is active.
Guess whose website is more likely to show up higher in a Google search?
You got it. Jane.
But making blogging the foundation of your online marketing isn't just about Google. It's also about social media.
Blogging Helps With Social
There are very few businesses that don't have some sort of social media presence. However, I frequently hear business owners tell me they don't know what to share on social media.
Now it is a good idea to share content from other people on Facebook or LinkedIn but that's not all you should be doing.
Since you don't own your Facebook page or your LinkedIn account one of your goals with your social media should always be getting people to visit the part of the web you do own – your website.
Each time you write a blog post you can share it to social media. Quote a section, include a photo and add a link back to your website or all of the above.
Cross posting from your blog to your social media is a key part of your online marketing strategy and will save you time.
Blogging Helps Prospects Know, Like and Trust You
All marketing is about giving your prospects the chance to know, like and trust you enough to become clients.
It's no different with your online marketing strategy.
Let's refer back to Dick and Jane. If someone visits Dick's website for the first time they may not be ready to hire him. If that's the case, Dick has to hope they'll come back when they are ready to hire a coach.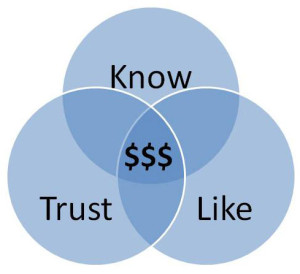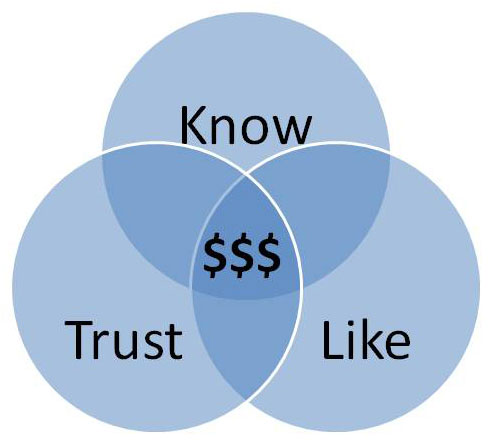 When someone visits Jane's website for the first time, they have those blog posts to read in addition to the regular pages.
If the blog posts are helpful or informative, they give the prospect more information about Jane and her abilities. The can see for themselves that she's knowledgeable rather than just taking her word for it from her About or Home page.
Furthermore, if they like what they read they will come back to read future blog posts. They may even subscribe to get notified right away when new posts get published.
Even if first time visitors to Jane's website aren't ready to hire her, they're more likely to be closer to making a decision after reading her blog. And the blog means it's more likely prospects will come back.
The more contact you have with new prospects, the greater the chance you have of building enough know, like and trust capital to turn them into customers.
I hope I've convinced you that blogging is a necessary part of your online marketing strategy. Come back next week where I'll share tips on how to come up with topics for your next 12 blog posts.
Are you following me on Instagram? Not only will you get some great content about social media, you can see how I share my blog posts on Instagram. @andreastenberg