I suspect I'm not terribly different from most entrepreneurs. I've got a lot of balls that I'm trying to keep up in the air. Not only that, I continually get new ideas. Some of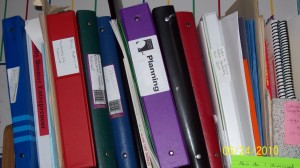 them are crap, but some of them are actually things that I plan to implement. I've tried a number of ways to keep my planning, my projects, and my new ideas organized.
One of the things I do is use binders. Each project has its own binder, as does planning. This has been a relatively useful way to keep track of ongoing work (when the labels don't fall off the binders).
New ideas were little harder to track. For a while I was doing the Post-it note method. Every time I got a new idea I'd write it on a Post-it note and stick it up on the wall next to my desk.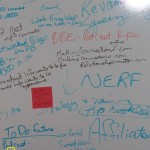 This didn't work for two reasons. One, after a while the Post-it notes just became visual noise; I just didn't see them anymore. The second reason is the mental clutter they caused me. Although I can block out the content on the Post-it notes, I still knew they were there. Although I wasn't consciously aware of it, it was causing me constant stress.
I moved away from the Post-it notes to whiteboards. Now whenever a garden idea I could just write it on the whiteboard. The nice thing about the whiteboard is it's one continual surface so it's less visually cluttering than Post-its.
However, the whiteboard method isn't perfect either. It's great for recording an idea as it occurs to me, but what do I do later? Eventually the whiteboard gets full. I needed some way to deal with the ideas.
Then I thought about Microsoft OneNote. This is a software program that comes as part of Microsoft office. I knew it was part of the package but hadn't looked at it. Last week I decided to open it and take a look. I'm glad I did. Read More→