Social networking – aka social media – is a way to connect to people online. The people component is often overlooked when people talk about social networking – they focus on the technology rather than the people.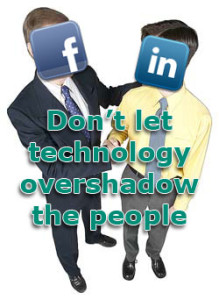 Facebook, LinkedIn and Twitter are examples of social networking sites. It may surprise you to learn that YouTube and blogging are also considered to be social networking sites.
However, it doesn't matter which site you're on, the main purpose is making a connection with real people. Think back to the days before Alexander Graham Bell. When you wanted to do business with someone you had to get off your bum, go outside and walk down the street to find the person you wanted to talk with. But after the phone was invented we could talk to other people without leaving our homes or offices.
Jump forward to the 1970s and 80s when the fax machine became common. Suddenly you could send documents to people across town or across the world.
Social networking is a similar technological advance that allows you to communicate with people around the world. But unlike the telephone where you can only talk one-on-one (or one-on few in the case of conference calls) with social networking you can "talk" to many (even thousands) of people at once. I addition, these people don't have to be listening live; you can post now and they may see your message later.
The key features of these sites are:
You create a profile for yourself or your business
You connect (Like, Follow, Friend) other people and vice versa
You makes posts or comments for your followers to read
You comment or share what others are posting
How does this help business?
Just like businesses quickly jumped on board with the telephone, social networking is a great tool for small businesses. It provides an opportunity for people to get to know, like and trust you in a non-threatening way.
You can showcase your expertise, let people know about new products or simply be entertaining. The choice is yours.
Like all effective marketing strategies, doing it right isn't always easy. And it does take time. But an effective social media campaign can make a world of difference in your marketing.
Andrea Stenberg