Like many middle aged women who spend too much time sitting in front of the computer rather than being out in the world, the size of my behind (not to mention the rest of me) has managed to become larger.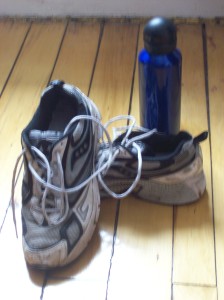 While I knew that I needed to lose the weight I made a decision that I needed to grow my business before I could worry about shrinking my butt. It just seemed like I only had so much mental energy to spend and I wanted to spend it all on building my business.
Then about six weeks ago my mom decided she needed to get in shape and joined the Y. Wanting to support her, I started attending with her. I had no particular goals, I just worked out when she did.
Now since I'm not retired I'm not spending two hours a day six days a week at the Y like my mom is. However, an interesting thing has happened in the last six weeks. I've gone from nearly drowning while swimming 12 lengths, to whipping through 40 lengths in no time flat. My favorite dress pants now fit me again, and even a little loose.
But the exciting and surprising thing is the effect on my business. Although I'm taking a couple of hours in the middle of the day two or three times a week, I'm getting way more done. I'm more focused, more excited about my business and have more energy throughout the day.
Who knew?
Okay, probably lots of people knew but apparently I didn't.
So the moral of the story is I just needed to get moving. Setting goals for losing weight or getting in shape seems overwhelming, but hitting the pool and the gym with my mom is easy.
This is a mistake I won't make again. I feel too good and my business is thriving.
Andrea Stenberg
Please leave a comment and share your thoughts and experiences around keeping fit while running a business.