Google has many – many – free services. One of them is to create a public profile using your Google account. It's really designed for personal, not business use. Google's blog post claims they're working on ways for businesses to have a profile. However, you can and probably should create your profile on Google. Just keep the details focused on your business.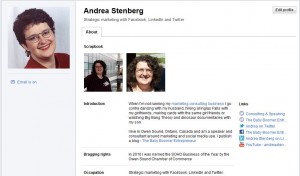 You have a main profile picture. I suggest you use the same one as on your Facebook, LinkedIn, Twitter accounts. There's also a "Scrapbook" where you can post other photos. It kinda reminds me of the Facebook redesign.
There's a links section where you can post your social media links as well as your website and blog. However, you can also add links in the introduction so you can really make it easy for people to find you.
What good is having a Google Profile?
If you have a Read More→